It seems to me, that nowadays, people are buying a name instead of a vehicle. Earlier today, a girl told me that a BMW had a V-8, so itís faster than any V-6 or V-4 (Iím not joking, thatís an actual quote). Why do people buy names? Because they have cash, they spend it just to know that they drive around a an outdated Ferrari, simply because itís red and has a ďhorseyĒ on the back and front hood.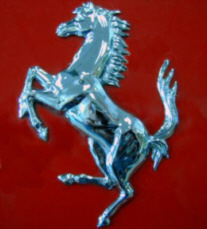 WTF. Why donít people do their research? A tuned civic can take out a classic Ferrari. I was even more disgusted when I say this commercial where these parents buy a SUV, and the father opens the hood and shows his son the engine. ďSon, thereís only one thing you need to know. HEMI!Ē I nearly threw up
because someone can slap on a sticker, does that make the car faster? No. Even if there was an engine like the one above, it would still be lugging along 4500 pounds. Probably around 5500 with the passengers. People seem to like buying a name, regardless of what that nam entails. Itís even more present in the ducati 999r.
Itís a fast motorcycle, but you have to run the RPMs high, and itís still not as fast as a hayabusa or GSX R1000. Oh yeah, the ducati also costs 3 times as much as the R1000. Why buy a name. the only reason I can think of, is that people think they make better vehicles. And then, only people who donít know anything about cars will respect you. Those who actually know what HEMI stands for will laugh at you for wasting your money. Is that what people want? To play off ignorance? What gives?
The other day, I saw a Saleen mustang. I automatically turned my head until my neck almost snapped. But, as I got further down the road, I began to think about why I did. Itís a way overpriced car with a saleen sticker on it.
WHY, WHY, WHY, WHY? Theyíre paying for a name, not a car. I guess youíre playing off of peopleís ignorance, and if thatís what you want, then sure, go for it, but is it better to have a fast car or is it better to drive a black civic that does 10 second quarter miles and just know that youíre faster?