if you desperately want a rally style car that has plenty of power with handling and style then look into a Mazda Familia GT-R, they're a 1.8ltr DOHC EFI Turbo/Intercooled, AWD, Hatch, completely designed for rally.

they do 13.8's stock in the 1/4mi. and have a top speed of over 200km/h.

the only problem with these cars is that when you start modding the vehicle heavily (pushing it to 250 - 300hp) it starts to eat gearboxes, so if you intend on doin' some crazy shit to the engine then i suggest you save your pennys and have a nice dogbox made for it.

stock standard, they're fast, $2000 later, they're really ****ing fast.

that was a car that just came to my mind, they're good cars, honestly.

EDIT: They've got 207hp STOCK, this can be increased greatly on the stock turbo (it's only on 6psi, can be raised to 14psi) aslong as you get an FMIC with a better intake.

Exhaust, CAI, Boost Raise, Fuel Injectors, Fuel Pump, Fuel Rails, FMIC and BOV will insure great performance in the power category, having slightly softer and lower suspension with heavy dutie shocks will insure great handling, new tyres/mags will also insure great handling.

Brakes, are excellent stock but can be replaced if you desperately want to.... once again.. the gearboxes are slightly weak.. so try not to thrash the shit out of them on a regular bacis.
__________________

If i still owned an excel.. It'd look like this: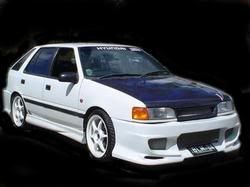 ---
Last edited by HyundaGuy : 08-14-2005 at

03:44 AM

.