Well, the cart is finally completely built, so it has come time for some actual work on the car. I started on the drivers side because it is in the worst shape. First the remains of the inner rocker panel where slowly pealed away from the outer, which hopefully will be able to remain in place. Then the remains front torque box where removed, and the reproduction rocker was clamped in place to check fit and placement.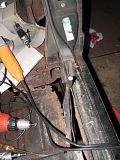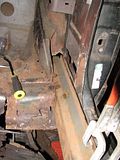 Then my first real positive repair: fabrication and instillation of a small patch for the front edge of the outer rocker panel. It will be behind the fender when the car is finished, so I wasn't too particular about it. I thought it turned out well considering it was my first attempt at bending metal, and my brother was quite sure I wouldn't be able to make the compound bends. Not perfect, but I am quite proud of it, and it only took me about three hours to go from a flat sheet of stock to a tacked in patch.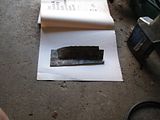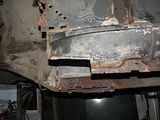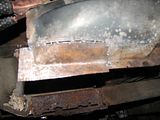 Hopefully over the weekend I can finish welding the patch panel in and start repairing the toe board, but before I can go much further with the rocker, I need to figure out what I am doing with the front of the rear wheelhouse. It is supposed to join up to the inner rocker, but has since rusted out, so I really need to repair that so I can be sure the rocker is lined up properly front to back before I go crazy plug welding it in place.
Up next comes the floors, floor supports, and seat panel reinforcements.